Meet our 2020 Go Dry LIVEr Champion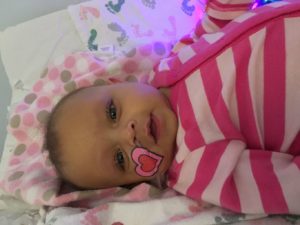 When our daughter Hanna was born, we were overcome with joy and quickly announced her arrival on Facebook, called family and friends, and even scheduled a family visit to the hospital. I remember telling my husband how nice it was to be bonding with Hanna in my hospital bed.
Three years prior, our twin boys were born early and had to be taken to the NICU immediately. We never got to experience that bonding while recovering from their delivery. But as my husband and I were enjoying this special time with two-day-old Hanna, our nurse was performing a routine jaundice screening. Right afterwards, she said that Hanna was jaundiced and had to be sent to the NICU for additional testing. Her liver labs were elevated and rising. We knew then that something was very wrong – and that we were entering the world of the unknown.
For the next couple of weeks, Hanna's liver labs kept increasing. The jaundice could not be cured by a light lamp. The doctors planned a liver biopsy, which led to a surgery, which finally led to a diagnosis — Biliary Atresia, a disease that restricts the use of bile ducts. The doctor described this horrible disease and said that it is found in 1 in 20,000 infants. With this new diagnosis, the only real cure was a liver transplant.
Nothing prepared us for seeing our beautiful baby continue to become more sick and yellow as each day passed. She had to use a feeding tube, which went into her nose. During the day, when she was too tired to eat enough calories, we administered specialized formula through the tube. We also juggled giving her 20+ medicines and always worried that she wouldn't keep them down. Hanna was constantly in the hospital for catching the flu, respiratory syncytial virus (RSV) and pneumonia. We were exhausted but determined.
Despite the pain, Hanna was the happiest baby we had ever met. At three months old, she giggled when her big brothers danced for her. In those moments, we could see that she was just trying to be a normal baby.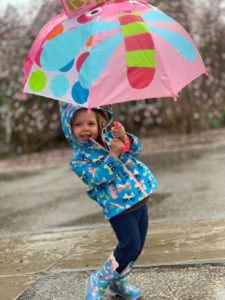 After 10 months of sickness and continuous pain, we received the call that we had been waiting for: A new liver was available. This was the scariest night of our lives. The next day, Hanna had a liver transplant. Within hours, we saw her change colors from bright yellow to a normal pink, she was getting better right before our eyes. We still had a long hill to climb, but we did it with the help and expertise of our liver team. Thankfully, Hanna met milestone after milestone – impressing all of us.
Fast forward to today. Hanna is the busiest, happiest, most energetic and, most importantly, healthiest three-year old. Along with her birthday, we now celebrate the day she received her new liver – her liverversary.
Hanna still giggles at her brothers, but just as likely can be found hitting them with a Lego or plastic sword. Our Hanna is not afraid of much and nothing holds her down. To make up for the months when she slept all day and wasn't hungry, she now refuses to nap and is the best eater.
This is Hanna's story – which makes it our story – and we are so grateful for the American Liver Foundation for letting us share it and for raising money for research to put an end to this disease and many others that affect the liver.
Shared by Melinda (Hanna's mom)